8 Outbreak Themed Comic Recommendations for Social Distancing
COVID-19 has affected all of us. Many are forced to work from home and many are in self-quarantine to protect themselves and others. With all this time spent inside, we know it can be a good time to do some reading. We've launched our 1000 Comics Challenge (Check our Facebook!) to our customers to keep track of every issue they read and to send them in to us, then we'll see how long it takes to get to 1000! However, we know a lot of you are more into graphic novels and trade paperbacks (hey, if it was published in issues first, it counts!). So, to try to bring some levity to this difficult time, we thought we could maybe lean in and recommend some outbreak themed reads, in a tongue-in-cheek way of course! We're doing mail order service from our shop, so if you see something you like, let us know! We have included links to purchase these items directly from our website. We can always order whatever we don't have! Most of these entries are for more mature audiences and often do contain some graphic images.
Science Comics: Plagues by Falynn Koch
This one is very spot on, we know, but it's the only great one for all ages! Science Comics has been a series that makes scientific subjects like animals, natural wonders, mechanics, and even disease, easy to understand. Enjoyable for kids and adults, Science Comics can be a shared learning experience. Koch's illustrations are clean and colorful. They do a great job of assisting the writing in making the subject matter easy and fun to take in. Covering the critters that have spread disease across the world, science of how plagues can affect bodies, and even the technology and medical science that helps us fight these pesky germs, this book will make learning at home a lot more fun.

 
Black Hole by Charles Burns
A classic in the realm of literary independent comics, Burns sets the story on 1970s suburban Seattle. Using striking black and white illustrations, this tells the tale of a community is affected by a sexually transmitted disease running rampant among the neighborhood teenagers. The disease manifests itself in a spectrum of ways from subtle and easy to hid to grotesque and conspicuous mutations. Once you've got it, that's it, you have it forever. What unfolds, however, is not the fight to find a cure, to bring awareness to the disease, or even treat it at all. We see instead an eerie look into the very nature of high school isolation- it's savagery, anxiety, and ennui. Just when you think it's getting cruell....well, then the murders start. Film adaptation talk has been tossed around for years. In 2018, it was reported that Brad Pitt's production company, Plan B, and New Regency had the right and Rick Famuyiwa was planning to write and direct.
Y the Last Man by Brian K. Vaughn and Pia Guerra (with contributions by other artists)
Set to be a series on FX premiering later this year, Vaughan tells the story of Yorick Brown. Most likely the last man on earth after all mammals with a Y chromosome have died from a mysterious illness. He is on the search for his lost love when we are introduced to one of our favorite characters, Agent 355, who is tasked with guarding poor Yorick. Vaughan is well loved, particularly for his longform storytelling. Expect a lot of feelings and character backstories. You can read the whole series now before it premieres!

 
Lazaretto by Clay McLeod Chapman and Jay Levang
College is supposed to be a time for self-discovery, exploration, and learning. When a small college town is hit with an outbreak, students are quarantined to their dorms. The virus causes one to lose their mental faculties and have hallucinations. We follow two quiet outsiders, Charlie and Tamara, as life in the dorm devolves in to a Lord-of-the-Flies-esque community of debauchery and chaos. Charlie and Tamara must depend on each other as the virus ramps up among the students and things get worse. Jay Levang's art gets more creepy as the stakes get higherm, with some images being downright haunting when you stop to get a real good look. This limited series touches on how humanity can regress to its most base and cruel natures, but more so, focuses on how we need other people in order for us to survive, no man is an island, and the importance of human connection in low times.
Chew by John Layman and Rob Guillory
With an adaptation for film, then tv, stuck in development hell for years, John Layman has brought Chew back to life in a crossover with his outerspace romp, Outer Darkness. If you are unfamiliar, this is the story of one Tony Chu, police detective turned FDA agent in a world where the FDA is the most powerful law enforcement organization on the planet. After a severe outbreak of avian flu that killed millions of Americans, chicken and all bird meat are illegal. Chu is what is called a Cibophile. Upon first taste he can get a feeling of where a food was grown, how it was raised, and how it was harvested...but sometimes he needs to eat things that are distinctly NOT food to solve a case. Rob Guillory has a distinct and wonderful talent for utilizing his art to make food look as unappetizing as possible. The series has been over for 3 years now, and we're happy to see some of our favorite characters alive again in Layman's crossover.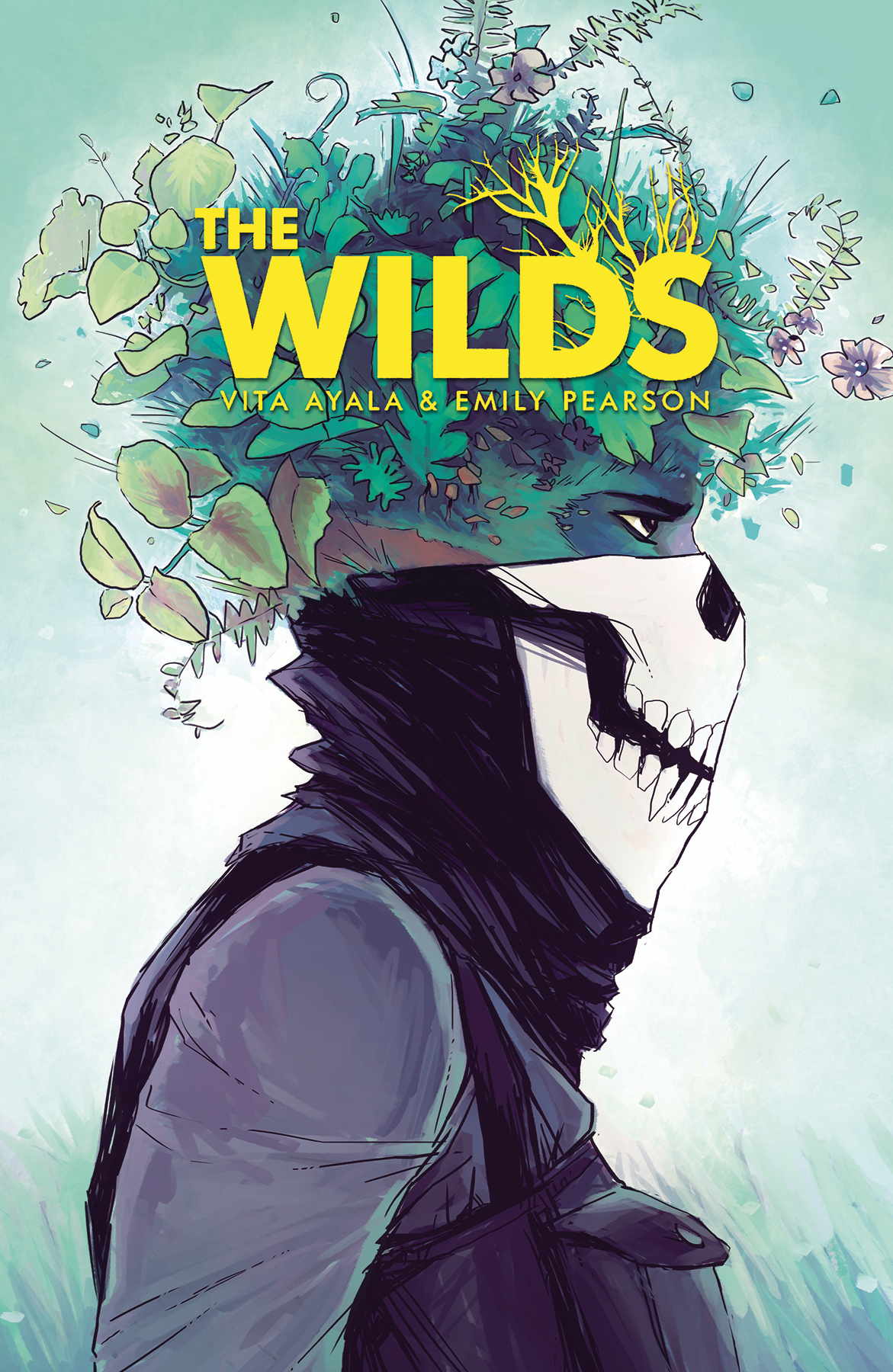 The Wilds by Vita Ayala and Emily Pearson
After a cataclysmic plague wreaks havoc over America, society creates citystate-like communities for safety. Daisy is a Runner for The Compund, which is like being a postal service worker and a black market salvager. Runners often must ferry items and even people between different settlements, and sometimes have to look for resource in the old world. They must traverse through the dangers beyond the settlements like feral animals and Abominations - those who have been touched by the plague and have turned into something other; something no longer human or animal. Daisy is the best there is and has survived for a decade, unphased by the danger When her lover, Heather, goes missing on a job, Daisy is desperate to find her. She'll learn that the danger outside the walls of these safehavens can give the horrors within a real run for their money. Pearson's art is beautiful and haunting in this tale of survival in bleak times.

(B Cover for The Beauty #1, Jenny Frison)
The Beauty by Jeremy Haun and Jason A. Hurley
Imagine a sexually transmitted disease that makes you incredibly beautiful, thus becoming a desired and sought after illness. Dubbed the "Beauty", over half of America has become infected, many by choice, in the two years since the disease came to public attention. Quickly we learn that the downside is far worse than anyone could have imagined. The infection begins its body count, and in a ruthless way. Two detectives are entrenched in the battle against the disease and the conspiracy they never thought would surround it. Perhaps this disease was something much more planned and purposeful than we were led to believe. Haun's art is gorgeous, giving the infected a glow only the reader can see. The Beauty is a moral play about the lengths we will go to and things we will do to be considered beautiful, and therefore, get ahead in life.

(Cover for The Walking Dead #193, the final issue)
The Walking Dead by  Robert Kirkman, Charlie Adlard (with art in the first  6 issues by Tony Moore)
Of course, we end with the big daddy of zombie outbreak stories. The Walking Dead ended last year after 16 years in publication with its 193rd issue. A cross-media powerhouse, the property has multiple TV shows, board games, video games, and soon 3 feature length films. If you've been living under a rock, The Walking Dead is about deputy Rick Grimes waking up from a coma caused by a wound on the job. He quickly learns that the world outside is overrun by the undead. Simply put, if a zombie bites you, you're infected. He eventually is led to a camp of survivors and learns his wife and child are still alive. He becomes the leader of this small group of survivors and the series goes on and characters come and go. Zombie narratives are often about the shock and struggle of the initial outbreak, while TWD delves into the days, weeks, months, even years after,  with all the minutiae that entails and how it can feel like it goes on without end. Like many horror stories, The Walking Dead is about how the things humans can do to each other is more monstrous than something as horrific as a horde of the undead. It's about how survivors are not only responsible for how their own lives operate, but how their actions will effect how humanity in the future will operate. It's become a standard for post-apocalyptic stories, specifically in the subgenre of zombie narratives. You can read the entire series that has become a cultural touchstone now. You most likely finally have the time now.

There are definitely more outbreak themed comics we didn't list here. Feel free to talk about them or ask us if they can be ordered. All of these books are available for purchase or order at Fantom Comics now. Call or email us at fantomhq@fantomcomics.com to let us know of anything you may need in these trying times.